New Zealand Best Umbrella Shades
New Zealand's Best Umbrella Shades
High Quality Shades for New Zealand Conditions
Give us a Call for a Free Quote!
A large umbrella ideal for spa and pools areas, hotels, motels, gardens, bars, cafes, cars and schools.
Get mobile shade for your patio, terrace, outdoor table…
We produce superior Shade Sails that are most suited to our New Zealand climatic conditions.
Which Shade Solution Suits You?
From 50km to 75km depending on the size
2 Years on Structure and 7 Years on Canvas
In Ground Foundation or Pedestal
Marine Grade Acrylic Canvas
Powder Coated Galvanized Steel
Deluxe Umbrellas Give Industrial Grade Shade for Larger Living Areas in Need of High Quality Waterproof and User-Friendly Shades.
1 Years on Structure and 5 Years on Canvas
Marine grade Acrylic Canvas

4
Black - Beige - Green - Grey
Valencia Umbrellas are Easily Moved to Where you Want, and Will Satisfy Your Needs for a Great Quality Shade While Being Cost Effective.
2 Years on The Structure and 10 Years on Shade Cloth
Shade Sails are Purpose Build in any Shape or Size for Exactly What you Need. Great for Areas Requiring Customised Shade.
2 Year on the Structure and 10 Years on Shade Cloth
Swingshades are an Ideal Cost Effective Shade Solution to Cover Your Swing set Without any Extra Poles in the Ground.
What clients say about us
COLIN HODGES
We purchased our umbrella approximately 12 years ago from Proformance Shades. On Friday the 23rd Dec 2011 when preparing for a family function I started to wind up my umbrella and the cable broke. I immediately phoned Proformance Shades at 2pm and spoke to Logan, Logan explained that they had closed for Christmas and in fact where at their company Christmas party. However, to my surprise he advised that He would call around with Curtis and repair the umbrella. They arrived at 3:10 pm and completed the repairs. I can only say that this is outstanding customer service and would recommend Pro Shades to anyone thinking about installing an umbrella of this type. Please feel free to contact me for further information on 021-491500
Colin Hodges
Managing director – ISL Industrial Ltd
COCKLE BAY
We recently had a Tuscan umbrella installed in our patio area. We would like to commend Logan on a great product coupled with great service. From the first time of contact Logan was extremely helpful, answering all the questions regarding the different umbrellas on offer. Once we had made a choice he was most accomodating with time of delivery and the installation was done verywell.We are thrilled with the umbrella and without any hesitation would recommend Performance Shades.
Mark & Grazia Casey
Cockle Bay – Chef & Retailer
CHERIE LEONARD
We have had our shade umbrella for approximately 9 years(2002) and now the present owner took over, they have been very quick and reliable with service with any repairs and maintenance needs that have arisen.
Cherie Leonard
Early Childhood Teacher – Titirangi, West Auckland
BUSBY CHILDCARE
The team at proformance Shades are nothing but exceptional to deal with. We have their Deluxe umbrellas in 3 of our centres, one of them being a new square design which was a perfect fit for the space we have. We were so impress with the process right from the offset, these guys made it so easy to take the guess work out. The quality of the umbrellas is outstanding and the teachers find them easy to use. If you are looking for shade at your childcare centre, then look no further – Logan and his team get 11 out of 10 from us for their exceptional service. Thank you.
Elvis
Busby childcare – Auckland
GET A FREE QUOTE!
Feel Free to Call us and we'll Talk you Through the Various Options.
✆ 09 533 8200
20 + Years servicing Auckland
NZ's Largest Rotating Umbrella
Minimum 5 year fabric guarantee
"The Most Popular Industrial Strength Side Post Umbrella"
Pro Shades Patio umbrellas are made from scratch out of our Auckland premises.
This has been the preferred shade product for over 21 years to places such as Auckland council, kindergarten associations, childcares and other educational sectors throughout New Zealand.
 You will realize how great of an investment Deluxe umbrellas are upon first use, feel free to read what people are saying: 
Comments and Testimonials.
"A Beautiful Umbrella for Your Terrace!"
We have created the Valencia with New Zealanders in mind. This industrial grade umbrella is aesthetically pleasing as well as strong and durable, it's made from anodized aluminium, marine grade acrylic canvas and stainless steel hardware. Here is your opportunity to experience your outdoor area with shade and rain shelter from an industrial grade umbrella that is easy to use and easy on the pocket.
"The Most Adaptable Shade"
We custom design and engineer shade sails for use over areas that normal umbrella could find challenging. Tough, durable and highly customizable make them a great shade solutions.
Here at Proformance Shades we have infinite Shade Sails ideas for any situation where you need shade or a waterproof cover. Weather you want a simple 3 sided sail or 1-billion sided sail, we can craft it for you. Proformance Shades only uses fabrics that carry a minimum 10 year manufacturers warranty and are Fire retardant (FR means they will not continue to burn upon flames burning them).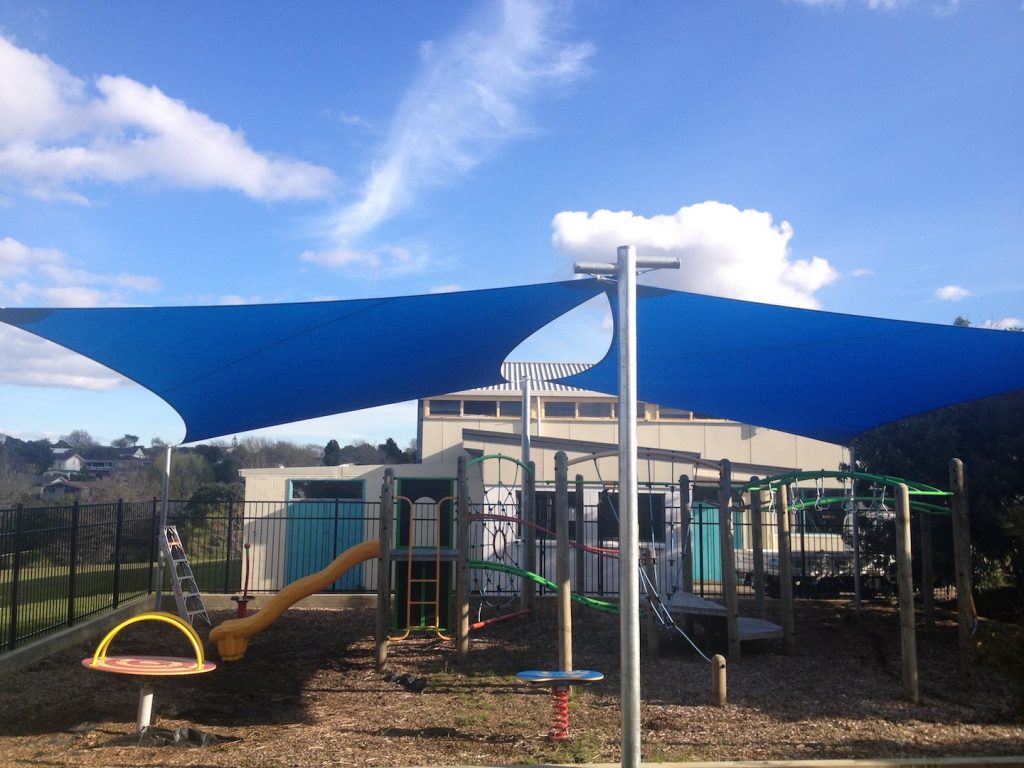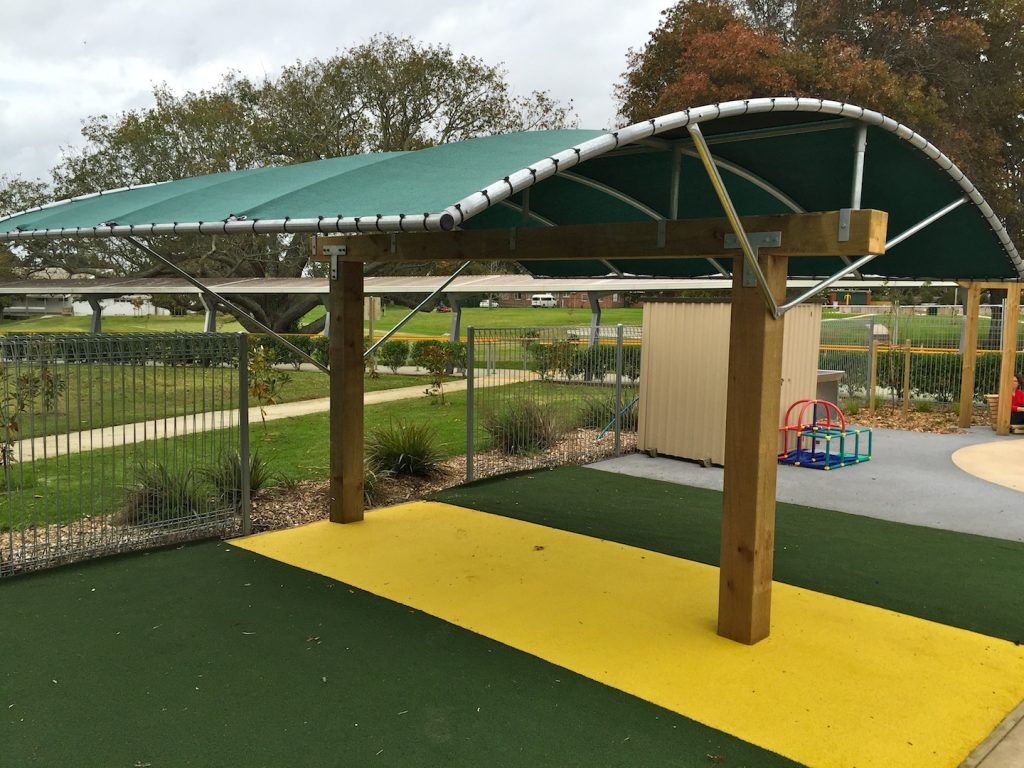 "Keep the Kids Protected While They are on the Swing Set"
Proformance Shades designed and engineered the original Swingshade awning for use over swing sets at schools and kindergartens. Swing Shades are a series of curved galvanized steel tubes that hold up the high quality shade cloth. Our swingshades are generally 5.5m wide and as long as your swing set is.
You may be questioning why one would have such a frame to merely hold up shade cloth… Well, swingshades are mounted onto your existing swing set frame, by doing so it eliminates need for more poles, mounting points, concrete foundation work and building consent… If that's not enough, the Shade cloth fabric we use has a 10 year manufacturer's warranty… And if that's still not enough how about knowing it's a product that eats shade sails for breakfast regarding price and durability.
"Up-cycle and Give Your Kids a Great Toy"
Mini Tramps for Children – These are a fun and creative toy made from recycling unwanted used car tyres by up-cycling them into a fun children's toy. To make it even better, we donate a minimum of $10 from every single tyre purchased to one of the 3 charities shown at the bottom of this page.
$100+gst for 1 and $300+gst for a set of 4
Proformance Shades Are Proud Sponsor Of :